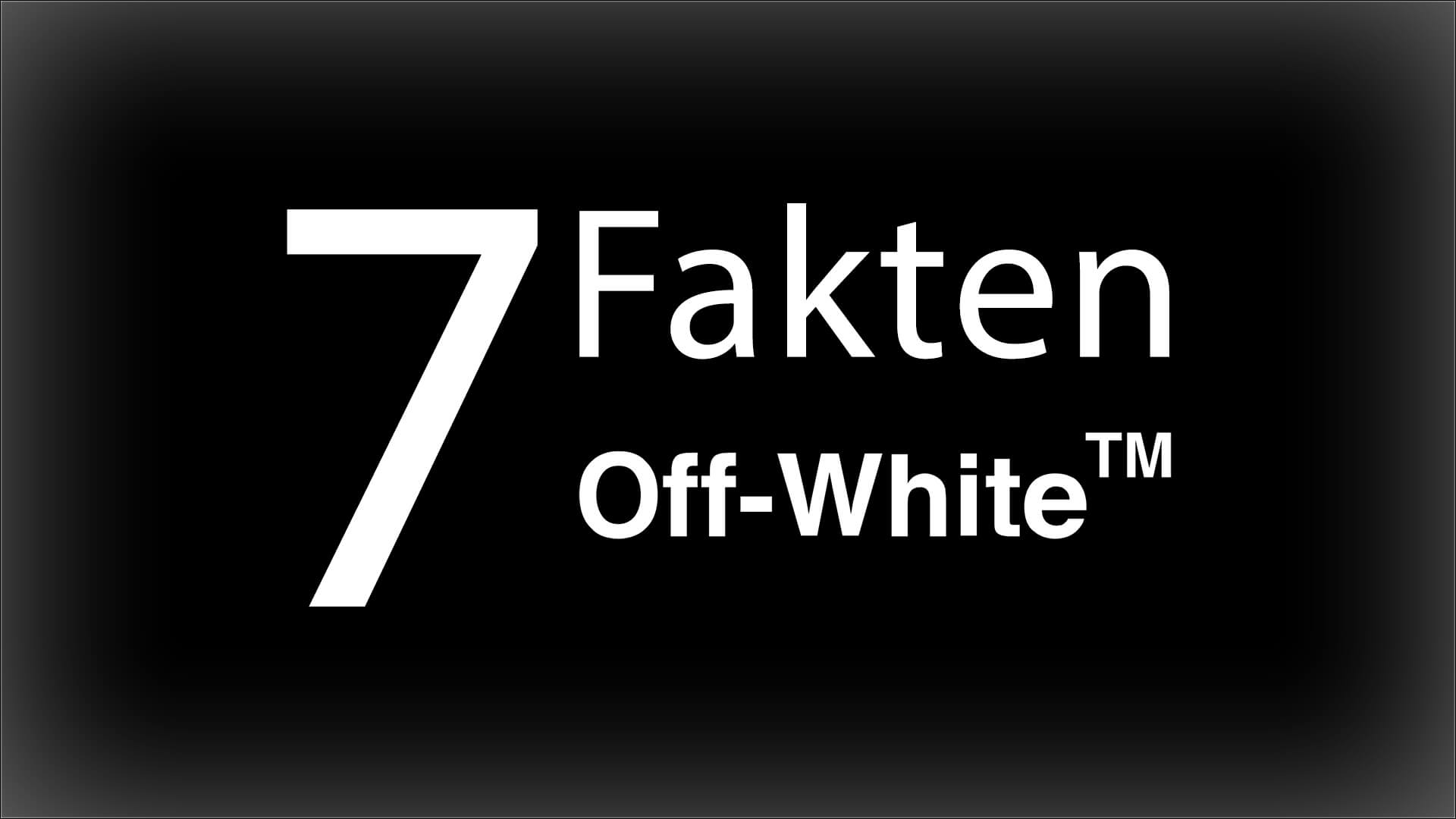 Sneaker Fun Facts – 7 Nike x Off White Fun Facts
7 Fakten über Nike x OFF WHITE – Nike'sOff-White Schuhe gehörten definitiv zu den am beliebtesten Schuhen, die 2017 auf den Markt kamen. Wenn du keine Probleme hattest, dein Paar zu sichern, dann gratuliere ich dir zu deiner guten Arbeit. Es gab viele andere, die nicht dasselbe sagen konnten. Dies mag die am meisten diskutierte Schuh Kooperation des Jahres 2017 und den ersten Teil von 2018 gewesen sein. Hier nun 7 Fakten die du wahrscheinlich nicht über OFF WHITE Virgil Abloh oder THE TEN wusstest.
Fact # 1 – Jordan 1 Fakes
Es gibt viele Fakes auf dem Markt, welche die Off White Jordan 1 Schuhe für 190€ pro Paar verkaufen. Nicht blenden lassen der Schuh ist ÜBERALL ausverkauft! Die Gefahr, die mit dem Kauf dieser Schuhe bei einem unbekannten Einzelhändler verbunden ist, ist, dass es viele Fälschungen gibt. Sie mögen sehr ähnlich aussehen wie die authentischen Versionen, aber die Fälscher werden immer besser darin, die Fälschungen weiterzugeben.
Fact # 2 – Bestellungen beim First Release
Es gab eine große Verwechslung, die sich für einige der Kunden von Nike zu einem wirklich großen Problem entwickelte. Sie bestellten ihre Off-Whites und was in der Post kam, war eine unangenehme Überraschung. Sie wurden in den falschen Kisten verschickt. Während dies einigen Leuten vielleicht nicht wie eine große Sache erscheint, ist es für die Fans, eine Katastrophe. Nike stimmte mit ihnen überein und schickte einen Vertreter, um die Probleme zu beheben, und es dauerte fast zwei Wochen, aber sie korrigierten die Fehler.
Fact # 3 – Jordan 1 Meisterwerk
Der Off-White Jordan 1 ist wirklich ein Meisterwerk. Oft, wenn dies über ein Produkt gesagt wird, ist es wenig mehr als eine Verkaufstaktik. Im Falle der Off-White Jordan 1 Sneaker ist das eine Tatsache. Virgil Abloh ist ein Meister, der über ein fundiertes Talent für Kreativität verfügt, und seine Beiträge zu Off-White sind unbestreitbar. Michael Jordan ist der Meister seines Fachs und er weiß, wie ein guter Schuh aufgrund seines früheren Berufs aussieht und sich anfühlt. Wenn du diese beiden großen Köpfe zusammenbringst, ergibt das ein Meisterwerk.
Fact # 4 – schnellste Kooperation aller Zeiten
Das The Ten ist das Ergebnis dessen, was Nike sagt, eine der schnellsten Kooperationen aller Zeiten, mit den 10 Schuhen, die innerhalb von 10 Monaten von der Idee bis zur Veröffentlichung entworfen und produziert wurden. Die Entwicklung wurde in zwei Hälften geteilt, Entdeckungen und Gestalten, die eine von Abloh entwickelte Designtechnik darstellen.
Fact # 5 – Was passiert neben der Nike x Off White Colaboration
Off-White verfügt über zahlreiche Kooperationen, darunter mit dem Brillenlabel Warby Parker, der italienischen Luxusmarke Moncler und der Sportmarke Nike. Abloh soll auch mit dem Möbelhersteller Ikea zusammengearbeitet haben und dem legendären blauen Franka-Shopper ein neues Gesicht geben.
Fact # 6 – Der Fehler in dem Namen "the ten"
Tatsächlich gab es nur 9 Nike Schuhe die im ursprünglichen Release von "the ten" veröffentlicht wurden. Der 10 Schuh war der Converse x Off White. Auch wenn Converse von Nike vor langer Zeit aufgekauft wurde, ist es der einzige Sneaker der Reihe der obwohl fälschlicherweise auch als Nike x Off White bezeichnet werden sollte.
Fact # 7 – Vor den Nike x Off White "the ten"
Bevor Virgil Abloh und Nike zusammengekommen sind, arbeitete er für Kanye West im Jahr 2009
Nach dem nächtlichen Erfolg der RSVP Gallery wechselte Abloh 2009 als künstlerischer Leiter zur Kreativagentur Donda von Kanye West, wo er Shows betreute und Merchandising-Produkte für die Marke des Sängers kreierte. Vor seinem Eintritt in die Kreativagentur von Kanye West verbrachten Abloh und West ein halbes Jahr bei Fendi, wo Abloh zunächst Michael Burke, Chief Executive von Louis Vuitton, traf. Der Rest ist Geschichte.
Haben dir die Sneaker Fun Facts – 7 Nike x OFF WHITE Fun Facts gefallen und du hast Lust noch mehr Fun Facts zu lesen? Dann findest du HIER noch mehr Fun Facts.
Lasse gerne einen Kommentar hier und folge @StyleNinja.de auf Instagram, um immer up to date zu sein.
Bis zum nächsten Mal